A solder paste has a shelf life because the flux within the solder paste reacts, albeit slowly, with the oxide layer on the solder powder in storage. This causes a thickening of the solder paste over time as the metal salt reactants increase the paste's viscosity. Additionally, if the reaction continues on for long enough, the oxide layer of the solder powder can be entirely removed, allowing the solder powder to cold weld together and form clumps.
As the PRC and FC measurements are related to the activity level of a solder paste, it can be an interesting tool to understand and investigate the expected shelf life of a solder paste. For 11 solder pastes from a major manufacturer, the average EIS measurements were compared to the manufacturer's reported shelf life.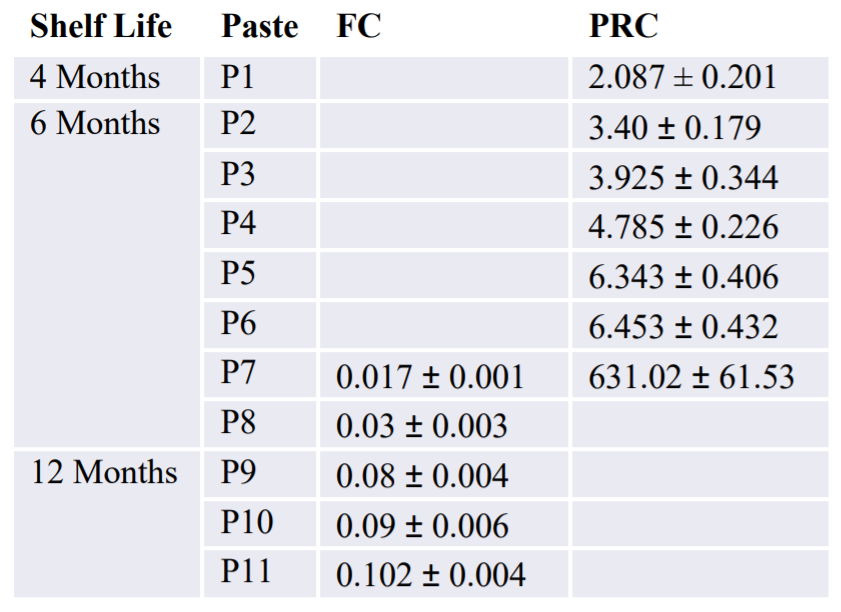 The FC and PRC results exactly aligned with the manufacturer's reported shelf life from the technical datasheets. For this manufacturer, pastes with a PRC below ~3 had a reported shelf life of 4 months. Pastes with an FC greater than ~0.06 has reported shelf life of 12 months. Pastes with a PRC above ~3 and FC below ~0.06 have a reported shelf life of 6 months. It is theorized that pastes at the higher extreme of the 6-month cluster (e.g. P8) will far exceed the stated shelf life recommendation as compared to solder paste at the lower extreme (e.g. P2) that may experience degradation in storage sooner.
Want to learn more? Check out our SMTAI 2020 paper.